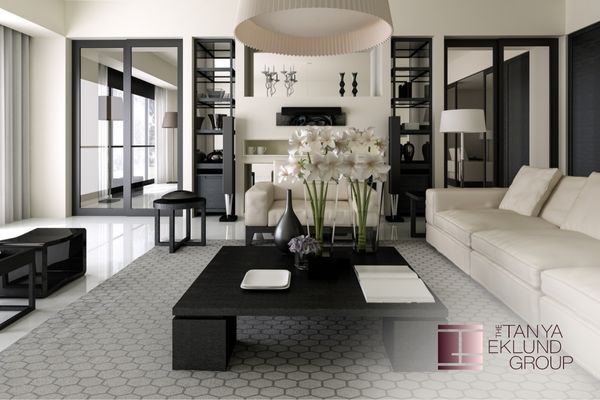 In the Calgary real estate market, any residential property with a sale price of over $1 million is considered a luxury property. These homes can include single-family, acreages, estate homes, and even inner-city semi-detached homes, townhouses, and apartments. The buyer pool for luxury homes is considerably smaller than for median-priced homes and a strategic marketing plan is the best way to ensure that your luxury property sells as quickly as possible and for top dollar. Choosing a Realtor® with experience buying and selling luxury homes in the Calgary market can ensure that you don't make these common mistakes and that your property is positioned as the next sale in your neighbourhood.
Common Mistakes When Marketing A Luxury Home
The discerning buyer pool for luxury properties is not only seeking a unique and high-end product, they are also seeking an elevated buying experience. Your Realtor® can advise you on undertaking renovations or staging your luxury home to showcase it in the best light. They should also help you build a brand for your luxury property, and explore options for high-end marketing. But here are some common mistakes you and your Realtor® should avoid:
Not Creating A Luxury Experience
Depending on market conditions, your luxury home may sell quickly, but it typically takes longer to sell a luxury property than it does a median-priced home. The luxury home sector is driven by different factors and the buyer pool is smaller. You and your Realtor™ should strive to create a memorable experience to attract the most buyers and pique their interest. Consider evening cocktail events instead of standard open houses or having your open house catered by a local celebrity chef. Highlight your home's best features with a unique event: afternoon tea in a beautifully landscaped backyard, popcorn and a movie in your elaborate home theatre, or a talented pianist tickling the ivories in your dedicated music room. These efforts can leave a lasting impression and help buyers see the possibilities for their family if they choose to buy your home. Even simple gestures like a swag bag with a candle like the ones you have lit throughout your home during showings, or a gift box of handmade chocolates and a marketing brochure to take home will keep your property top of mind for buyers.
Not Pricing Your Home Right
Pricing a luxury property can be tricky, especially if your home is one-of-a-kind or highly customized. Typically, a Realtor® will price your home by comparing it to similar properties that have recently sold in your area, but this doesn't always work for a luxury product. The strategy in pricing is to price it to attract the most buyers, but to ensure that you are optimizing your investment and getting a fair return. A seasoned Realtor will understand the nuances of pricing a luxury home given existing market conditions. A great Realtor® will be able to leverage their own network of fellow agents to corroborate their pricing strategy and their own network of buyers to understand what active buyers are looking for.
Not Following Up
The follow-up after a showing or marketing event is always important, but perhaps never more so than when selling a luxury property. The purpose of this strategy is two-fold:
It maintains engagement with potential buyers and with Realtors® who may have other prospective buyers. Thoughtful communication can help your Realtor® gauge interest and motivation.
It is a great tool for feedback. Feedback, both positive and negative, is helpful as you market a luxury home. What did buyers think about the pricing? Are they concerned about insufficient closet space or the cost of pool maintenance? Is your custom kitchen with a professional-grade range creating a buzz? Some concerns can be addressed (maybe consider a bespoke closet organization system to optimize space) and your Realtor® can leverage positive features for future marketing events.


Partner With A Realtor® To Market Your Luxury Home
Avoid costly mistakes when selling your luxury home by avoiding these common missteps and by partnering with a Realtor® who understands the nuances of marketing and selling luxury homes in the Calgary market. The expert team of Realtors® and real estate specialists at The Tanya Eklund Group have the insight and experience to position your luxury home to be the next sale in your neighbourhood. Leverage our network and in-depth knowledge of the Calgary luxury homes market to ensure that you are able to sell your home quickly for the best possible price. Connect with our team by calling (403) 863-7434 or through our contact form.