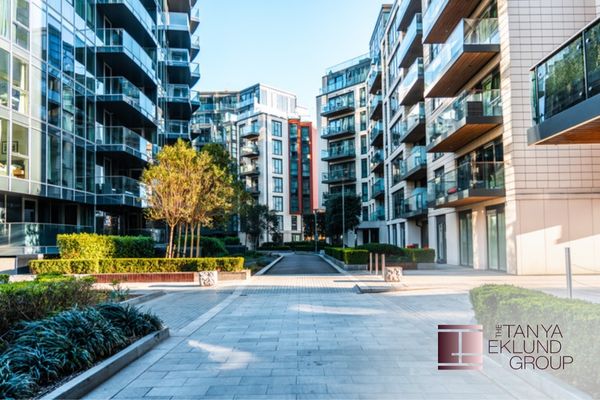 Did you know that many of us, Realtors® included, are using the term "condo" inaccurately? We often use it interchangeably with "apartment" or use it to describe a kind of multi-family unit. But in reality "condominium" describes a legal model of property ownership. Condo units can be inner-city apartments, townhouses, and even single-family homes. So, what exactly is a condo and what are some of the benefits and drawbacks of this type of property ownership?
If you are looking for a condo or any inner-city home partner with a team of Realtors® that specializes in inner-city living. Contact the Tanya Eklund Group by calling us or reaching out online.
Inner-City Real Estate: What Is Condo Ownership?
Condominium ownership grants you full ownership of your condo unit and shared ownership of the common property of the site. Common property can include:
Lobbies and elevators
Hallways and stairwells
The infrastructure of the building including plumbing, electrical, heating, and air conditioning systems
Property amenities such as pools, fitness centres, multipurpose/event rooms, rooftop patios, and outdoor greenspaces
Parking lots and roadways within the property
And more
As part of this ownership agreement, each unit owner contributes to the maintenance and operations of these features with condominium fees. These are typically paid monthly to the Condominium Corporation which consists of every unit owner in the complex. The unit owners elect a Board Of Directors to enforce the condo bylaws and manage the "business" of the condominium as a whole.
The Pros And Cons Of Inner-City Condo Ownership
There are benefits and drawbacks to this style of home ownership.
The Pros
Access To Common Amenities: The enhanced features of your condo complex like saunas, pools, or gyms are yours to enjoy.
Fewer Maintenance Obligations: Condos typically include landscaping and snow removal, window cleaning, and exterior maintenance and repairs.
Increased Security: This may not apply to all types of condos, but many condo complexes are contained and offer controlled access and more protection.
Community Lifestyle: Some condominiums cater to a specific population or demographic (such as senior living or young, urban professionals) and offer opportunities for community engagement.
The Cons
You Must Agree To Abide By The Condo Bylaws: These are the rules that govern the corporation and the unit owners. These can include pet restrictions, and noise and conduct guidelines. Sometimes they even determine what changes you are allowed to make to your own unit.
You Must Pay Your Condo Fees: These fees are mandatory even if you do not make use of the amenities or services.
You May Live In Close Quarters: Condo properties that are not single-family homes, usually include shared walls, staircases, floors, and ceilings. This could mean less privacy and more noise.
Be Prepared For Special Assessments: The board can impose a special assessment, a mandatory, lump sum financial contribution, on unit owners for unexpected repairs or upgrades, or to fortify the condo corporation reserve fund.

Is Inner-City Condo Living Right For You?
Condos can be affordable apartments, lavish penthouses, accessible rowhouses, and even single-family homes. If you are interested in exploring your options for condo ownership in the inner city, the first step is to partner with an inner-city Realtor® who can help you navigate the process of finding the perfect condo to meet your goals.
The team of Realtors® at the Tanya Eklund Group specializes in inner-city homes because we, too, live here, work here, play here, and raise our families here. A team of inner-city specialists is your best resource when looking for the ideal condo in Calgary's downtown core. The Tanya Eklund Group team specializes in more than just the inner city, we are a dynamic, full-service team with extensive knowledge of the entire Calgary real estate market. We have cultivated a network of buyers, sellers, and support players so we can guide you through every step of the process with the most skilled professionals. And we are masterful negotiators ensuring that every offer is fair and favourable for our clients. Reach out to our team at (403) 863-7434 or through our contact form and let's talk about what home means to you.