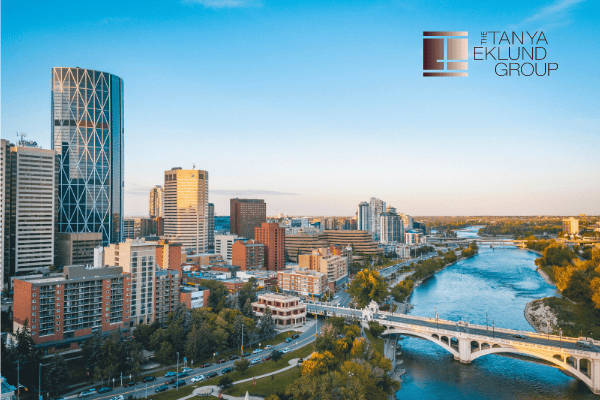 Calgary's inner city is a bustling and dynamic hub. Home to award-winning dining, sports and cultural events, boutique and high-end shopping, and many white-collar businesses, it is a place that most Calgarians have at least visited. Many consider it a place to work and socialize, but the inner city also boasts amazing parks and green spaces, scenic river pathway systems, and some of the city's top schools. Downtown can be a great place to gather and work, but it is also a great place to raise a family. Let's explore some of the inner city's best neighbourhoods for family living.
Make The Move To The Inner City
Crescent Heights
Crescent Heights is just north of downtown, perched on a cliff with breathtaking views of the Bow River and the spectacular city skyline. This inner-city community ranked 3rd overall in Avenue Magazine's 2020 rating of Calgary's best neighbourhoods.
Why It's Great For Families
Accessibility: Crescent Heights has easy access to downtown, major city thoroughfares, escape routes to the Canadian Rockies, and to many amenities on foot too.
Housing Options: Families in Crescent Heights can choose a luxury estate home, contemporary infill housing, apartment or condo living, historic bungalows, or purchase a lot and build the home of their dreams.
Recreation: Crescent Heights has some of the best outdoor amenities in the city including a skating rink, splash pool, parks, and tennis courts. It is also home to levels and levels of stairs favoured by Calgary fitness enthusiasts.
Upper Mount Royal
Upper Mount Royal is an aspirational neighbourhood just southwest of the core. This neighbourhood is a showcase of Calgary's history with some of the city's most beautiful historic homes as well as the innovative architecture of each subsequent decade. Upper Mount Royal offers families the privacy and seclusion of estate living nestled amidst metropolitan amenities.
Why It's Great For Families
Recreational Amenities: Opportunities for recreation for residents of all ages abound in Upper Mount Royal. Families can enjoy parks and playgrounds, an outdoor skating rink for winter fun, many sports fields, tennis courts, and a community-supported weekly playgroup. The world-class Respol Sport Centre is a five-minute drive away. All of these recreational amenities are maintained by the active and committed Mount Royal Community Association (MRCA).
Options For Education: Families in Upper Mount Royal have access to some of the city's most acclaimed schools. Elementary schools in the area are Earl Grey School (K-6) and Sacred Heart School (K-6). Junior highs are St. Monica School (K-9) and Mount Royal School (7-9). And the area high schools are St Mary's High School and Western Canada High School. For post-secondary education, there is easy access to public transportation hubs right nearby.
Entertainment And Retail: Two major shopping and dining destinations border Upper Mount Royal; 4th Street and 17th Avenue (also known as The Red Mile).
Parkhill/Stanley Park
Also located just south and west of downtown, Parkhill/Stanley Park is one of Calgary's oldest neighbourhoods. This community embodies urban renewal and evolution with several active projects that support redevelopment while respecting the neighbourhood's residents and history.
Why It's Great For Families
Beautiful Parks: Right along the Elbow River sits Stanley Park. This sprawling urban greenspace is one of the city's most desirable destinations for picnics and bbqs, tennis, swimming, canoeing and fishing, tobogganing, and is home to the Stanley Park Lawn Bowling Club.
Community Vibe: Parkhill/Stanley Park has an amazing community vibe supported by a very active community association (PHSPCA). This group provides great community hall amenities and plays host and organizer to Stampede breakfasts, Christmas Parties, yoga classes and wellness workshops, pickleball courts, and more.
We Are Calgary's Inner-City Specialists
Calgary's inner-city communities are diverse and dynamic, and everyone can find a place to call home here. Each neighbourhood offers its own unique combination of house styles, schools, recreational opportunities, conveniences, amenities, and people. The Tanya Eklund Group is Calgary's inner-city specialists. Tell us about your lifestyle, and what appeals to you about inner-city living and we will help you find a great home in an amazing neighbourhood. Our team lives, works and plays in Calgary's exciting inner city. Contact us today and let us share our first-hand insight with you.
Get a head start on the search for your ideal inner-city home by searching our inner-city listings here.