If you're moving into a new home, you probably already have plenty of things to tick off your to-do list. However, if you have young children or plan on having kids soon, do your future self a favour and make childproofing one of your top priorities. Try the following tips to start childproofing the main rooms in your new home:
Living room
If you have bookshelves, make sure they're secured to the wall. Put edge bumpers on any sharp furniture to prevent any unnecessary scrapes and bruises. If you want to hang pictures, hang them high and consider avoiding glass – if a curious child manages to reach for one, you don't want to risk them being showered in broken glass. If you plan on using space heaters in winter, make sure they are kept out of reach of children and are always turned off when not in use. Use cordless window coverings to avoid strangulation risks and install safety guards on windows so your curious children can't open them and climb out. Cover outlets with protective covers, both in the living room and elsewhere in the house.
Kitchen
As a commonly dangerous area for children, the kitchen in your new home might require some extra attention. To start, install a plastic stove guard so kids can't get their hands on the knobs and buttons of the stove, store any harmful products up high, and install a safety latch on the fridge and cabinets. Most importantly, always keep your wits about you while cooking. Unfortunately, childproofing a kitchen isn't enough to keep accidents from happening. If your children enjoy watching you cook, why not set them up a secure area from where they can watch but not get their hands on anything dangerous?
Backyard
Also remember to secure any outdoor areas that your child explores around your home. Many kids love playing in water, whether a backyard pool or nearby streams or ponds – but make sure you constantly remind your children about safety in these settings. Children can drown very quickly even in shallow water, and should always be supervised. If you or another trusted adult are not free to keep watch on them, ensure you have a safety fence or gate to guard access to the water source.
When providing safety advice around pools, fireplaces, and even garden equipment such as lawnmowers, always speak kindly and calmly. Try to focus on the things that the children can do, and emphasize the importance of being aware of dangers, instead of focusing on particular worst-case scenarios or scary stories.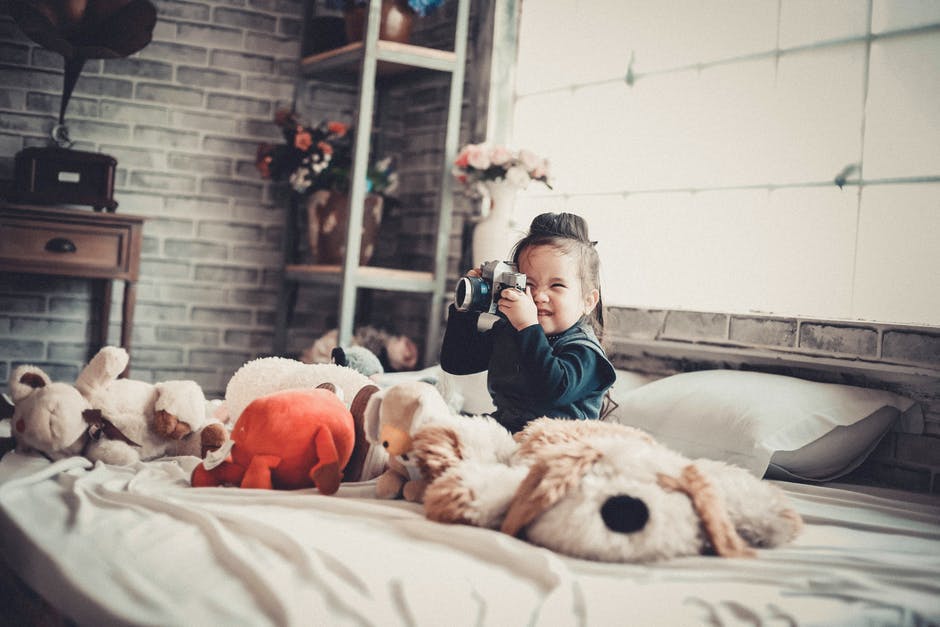 Photo Credits: Pexels
Bedroom
Although it might be less aesthetically pleasing, skip the classic toy chest altogether and use a plastic box in its place, or at the very least, avoid a chest with a heavy, free-falling lid. While you're at it, you might like to reinspect all of your kids' toys and ensure there aren't any choking hazards present – broken toys can easily become hazards. If your kids are prone to night-time wandering, install a safety gate across their doors. Make sure that every person's room has a good-quality smoke alarm installed and check the alarm batteries every couple of months.
Bathroom
Your new bathroom is one of the most important rooms to childproof. Install a lock on the toilet so that your kids don't accidentally fall in – they can drown in shockingly small amounts of water. If your bathroom door has a lock, you might like to consider removing it or using a doorknob cover – you don't want to risk one of the kids getting stuck inside. You might also like to try child-friendly taps, fitted with a safety lock, to reduce the risk of your children burning themselves with hot water. Furnish your floor with a slip-proof mat, which will be helpful for both the kids and the adults of the family. Finally, always keep your medicines in their original packaging – most of these will already be childproof by nature, so all you have to do is to keep them out of reach of tiny hands, ideally by installing safety latches on your cabinets.
Childproofing an entire home is well worth the hassle, time, and energy. Childproofing will give you peace of mind to know that your home will be much less of a danger zone if you ever lose sight of the kids for a few seconds. Ensure you don't have to deal with avoidable accidents by taking childproofing seriously!
Johanna's greatest passion is writing. She hopes to inspire and encourage others through her articles, and has written blog posts about home and living, business, and travel topics. Given a choice right now, she would love to swap the hustle of the city for a cosy stone cottage surrounded by trees and snow-capped peaks for a few years! You can easily find Jo and her work on Musings of Johanna.