Create a 'fun in the sun' atmosphere in your own backyard with these five tips, just what you need for summer entertainment!
1 – Guest List – Don't be afraid to shake up your usual guest list with a few new friends or clients, often the happy casual atmosphere is just the place to get to know others better. Sprinkle in a few extroverts who love to be the life of the party and make sure to set up food and beverage stations that keep the guests mingling from one end of the yard to the other. You don't want the shy lawyer getting comfortable in one corner of the yard with no chance of bumping into the single ladies!
2- Hire Help – You don't have to spend the evening running around like a chicken with your head cut off! Hire a couple servers (they can be nieces or nephews who would like to earn a few extra dollars) to stay on top of food trays, gathering bottles/cans and taking out garbage. This leaves you free to mingle, relax and get the most out of visiting at your event!
3- Signature Summer Cocktail – Most of my friends know that I don't drink, so I like to provide a non-alcoholic version of a special beverage. A beautiful option that tastes delish is a punch bowl filled with ginger ale and your favorite flavour of sherbert – lime, strawberry, orange – it creates a bubbly, frothy display and tastes amazing!
For the palette that desires an adult cocktail, offer a summer Pimm's Cup with fresh strawberries and cucumber. It is simple too, made with ginger ale, Pimm's No.1 and fruit!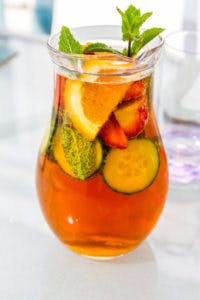 4- Use Nature to Decorate – Just the reason you needed to spoil yourself with fresh florals! I love any excuse for fresh flowers and natural accents. Last year for my birthday, my husband, Chad, bought me a subscription to a bouquet of flowers every month – now that's true love!
If the weather is hot and sunny consider putting up a fabric gazebo to provide some shade when needed. If you expect your quests to stay into the evening put out a basket of cozy blankets to keep the chill off.
5 – Party favours – Any good party host will want their guests to take away a goody bag of memories, but what to give that won't break the bank? Last year, after throwing a stampede event I opted for colorful potted flowers with a mini 'For-Sale' sign that said thank you!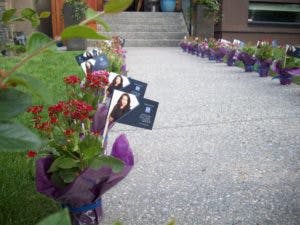 BONUS TIP! Music sets the mood!
I have always been a fan of supporting local talent and for the past two years I have hired country music artist, Lindsey Ell, to perform at my backyard parties. It gives me a chance to share this Alberta born talent with my friends and clients, and it gives my guests quality entertainment and a bit of celebrity! It's a win/win!